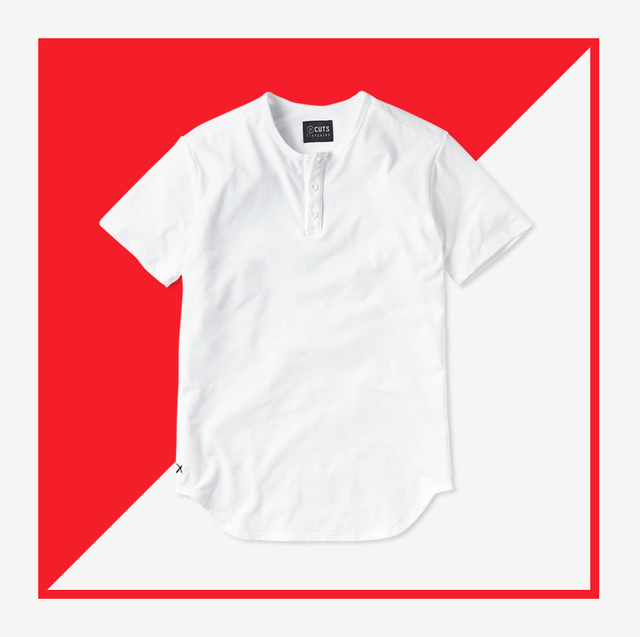 Assorted retailers
Looking to upgrade beyond your basic T-shirt? A henley takes your typical tee up a notch with its signature buttons that add an element of detail while offering comfortable, effortless style.
Henleys typically have 2-5 buttons, can come in both long-sleeve and short-sleeve styles, and are collarless. Today, there's such great variety of henley shirts that offer comfort with great function with sweat-wicking and stretch technology. You can even purchase a sun-washed option for a lived-in look, without having to hunt down a vintage henley in your local consignment shop.
What makes a Henley that unique go-to shirt is the way the buttons make for a flattering element that's built-in. You've worked-out hard and a Henley is the perfect shirt to show some chest and arms all in one. For a henley to have the best fit, find one that skims close to the body, but doesn't cling to your mid-section. The fabric will hug your shoulders, arms, and pecs, but be a bit more forgiving on your stomach area after a cheat-day meal.
Available in a variety of fabrics, from lightweight for warmer weather days to heavyweight options for the cooler months. No matter the season, these 13 henley shirts will seamlessly work themselves into your wardrobe, whether you layer them under your favorite jacket or just wear them on their own.
Read more: Best T-Shirts for Men
Best Everyday Henley
Garment-Dyed Slub Cotton Short-Sleeve Henley
Broken-in slub cotton sets this henley apart and gives a good look like you've lived in this shirt comfortably for years. If you're looking for a brighter colored henley to wear, these Garment-dyed colors are uniquely flattering for all types.
Most Comfortable
Cuts Clothing Henley Elongated
The elongated curved hem on this Henley is great for guys that are looking for a relaxed look. Pairs well with sweats or jeans; Cuts high stretch fabric allows for optimum comfort. The seriously soft fabric and wrinkle-free technology are built-in added bonuses.
Best left untucked
Sun-Washed Henley
There's plenty to love about this sun-faded tee. Made with 100% comfort that has a lived-in feel, it's also cut just below the hip, which means you can leave it untucked without looking sloppy.
Best Long Sleeve Henley
Men's Explorer Slub Tee, Henley Long-Sleeve
Long sleeve tees aren't just for colder seasons. This one from L.L Bean is ultra lightweight, which means you can wear it on its own during the summer, plus it has a UPF 50+ fabric to fight sunburn.
Warmest Henley
WARMKNIT Waffle Henley
Mack Weldon is hands-down one of the best Henley brands. This waffle option with insulating Thermolite technology assures you'll stay warm when the temperatures chill. The brand's attention use of innovative fabric technology for comfort and function, paired with flattering simplicity in design, creates a winning combo for any guy to sport.
This waffle cotton Henley offers the right mix of texture and comfort. O.N.S specializes in classic pieces with just the right amount of lived-in quality and ease.
Classic Long Sleeve Henley Shirt
If you're looking for a shirt with a uniquely-crafted design and fabric, Rag & Bone's Peruvian cotton henley has you covered. The fit is flattering for varying body types, trim cut but not tight, and the slubbed fabric hangs well on the wearer. The tapped trim placket and black metal buttons—a signature for the brand—adds a level of ruggedness that's equally flattering.
Soft-Washed Short-Sleeve Henley T-Shirt
Soft-washed for comfort, this pale henley hits all the right notes for a flattering and stylish shirt that's easy to wear anywhere. The affordable price here is an added bonus as well.
Long Sleeve Heavyweight Henley
It's a durable heavyweight knit cotton Henley with built-in comfort. The taped neck and shoulder seams assure lasting wear. Attention to detail with a tagless back are also beneficial to prevent chaffing and irritation during a full day of wear.
Men's Henley Short Sleeve Shirt
Kors strikes that fine balance of modern design and elevated ease. Case in point, this neutral henley with a cotton-silk blend makes it unique and fitting for dressing-up your denim look, especially when paired with a tailored blazer.
Opt for this sunwashed option for a lived-in look that's as comfortable as a vintage option from the first day you put it on. The fit of the Henley is trim while still having a relaxed feel.
This five-pack of jersey Henleys will replace all your ratty tees in one fell swoop this summer. The subtle shades of color, paired with the durable knit fabric, are the perfect complement for your new summer tan.
The snug stretch fit of this Henley is great for guys to work into their stylish layering game. It's without-doubt equally flattering for those looking to wear it on its own to show off their well worked-out days at the gym.
Read more: Best Undershirts for Men
This content is created and maintained by a third party, and imported onto this page to help users provide their email addresses. You may be able to find more information about this and similar content at piano.io