High-dose ifosfamide has shown superior survival benefit over three other chemotherapy regimens for patients with recurring or refractory primary Ewing sarcoma (RR-ES) in the practice-changing rEECur trial.
This international trial is the first randomized head-to-head comparison of commonly used chemotherapy regimens in patients with the rare and deadly disease.
The study results are expected to change the standard of care and be practice-changing on a global scale, commented Julie Gralow, MD, chief medical officer at the American Society of Clinical Oncology (ASCO).
The results were presented June 5 during a plenary session here at the ASCO 2022 annual meeting.
Ewing sarcoma is a very rare cancer of the bone and soft tissue that mainly affects children and young adults, particularly in the second decade of life, explained lead author Martin McCabe, MD, clinical senior lecturer in pediatric, teenage, and young adult cancer at the University of Manchester, UK. The incidence rate is 3.2 per million people under age 25 years, he said.
Gralow explained in an interview that treatment of Ewing sarcoma differs from one cancer center to another. Several different chemotherapy regimens are being used, all based on single-arm trials, with no consensus on which is best.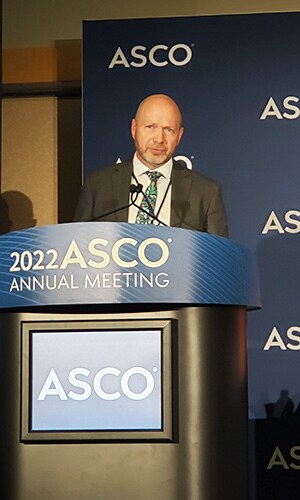 Dr Martin McCabe
This international trial set out to answer that question and compared four different regimens. Participating centers were "able to solve a question by partnering, coming together, and even in a very rare population get enough patients to define the winner," she said.
Earlier findings from this trial had shown that ifosfamide had improved survival compared with gemcitabine and docetaxel and compared with irinotecan and temozolomide.
At the meeting, results of the comparison of ifosfamide versus a combination of topotecan and cyclophosphamide (TC) were presented.
Median overall survival was 15.4 versus 10.5 months with ifosfamide versus TC, and 1-year overall survival was 55% versus 45%, respectively, for a 94% probability that ifosfamide is better than TC for overall survival, McCabe reported.  
Median event-free survival was 16.8 months in 73 patients in the ifosfamide group versus 10.4 months for 73 patients in the TC group. Six-month event-free survival was 47% versus 37%, respectively. "Given the observed data, there is a 96% probability that ifosfamide is better than TC for event-free survival," he said.   
High-dose ifosfamide prolonged median event-free survival by 5.7 months, compared with 3.7 months for TC.
Notably, greater event-free survival and overall survival differences were observed for patients under age 14 years compared with those aged 14 and older, McCabe noted.
As for toxicity, similar rates of neutropenic infections were seen in the two groups, but more severe renal and brain toxicity were observed with ifosfamide, with both occurring in less than 10% of patients, he said.
Despite the practice-changing results, McCabe stressed that the "differences [between treatments] are quite small, and what we actually need is better drugs to cure more patients."
The rEEcur trial is continuing to recruit patients to the ifosfamide group, and a fifth chemotherapy group of carboplatin and etoposide has been added.
Later this year, investigators also plan to add a new group with a molecular targeted therapeutic.
Important Global Collaboration
Gralow emphasized the global collaboration that was behind this trial, which set out to answer important questions about how best to treat a rare disease. "In this really terrific collaboration…there was an agreement to test all these regimens that are commonly used, and so we now have data on efficacy and toxicity."
"It's a really important concept in rare diseases: if we all work together, we actually can study them and get answers," she said.
"I think pediatricians and oncologists are [now] better able to talk about the risks and benefits [of the regimens]," she added.
Vicki L. Keedy, MD, an ASCO Expert in sarcoma, concurred. The findings from the rEECur trial "could help physicians talk with patients and their families about the likelihood of response, survival, and toxicity for each regimen available for relapsed Ewing sarcoma based on objective, randomized data," she commented in an ASCO press release.  
ASCO 2022. Abstract LBA2. Presented June 5, 2022.
Sharon Worcester, MA, is an award-winning medical journalist based in Birmingham, Alabama, writing for Medscape, MDedge, and other affiliate sites. She currently covers oncology, but she has also written on a variety of other medical specialties and healthcare topics. She can be reached at sworcester@mdedge.com or on Twitter: @SW_MedReporter.
For more from Medscape Oncology, join us on Twitter and Facebook.