Warzer Jaff for BuzzFeed News
MOSUL, Iraq — Residents of this quiet street in eastern Mosul sometimes see their former neighbor return to his rubbled home. He cuts a lonely figure as he climbs through the crushed concrete and twisted iron, stooping to dig for mementos — a photo, a scrap of clothes. Then he sits and cries.
Hassan Ali Hassan, 45, is a Jordanian who has lived for three decades in Mosul, where he married a local woman and raised a family. In June 2014, after ISIS captured the city, he tried to escape with his wife and three daughters to Amman, but the militants seized their passports and ordered them to stay.
Hassan and his family were still trapped in the city on Dec. 14, 2016, as Iraqi forces pressed their US-backed offensive to retake Mosul from ISIS. The fighting had not yet reached their neighborhood, and the family shared a late breakfast before Hassan stepped out to get gas for their generator. Barely a minute had passed when a massive explosion erupted behind him. He ran back to find his home demolished and engulfed in flames, pulverized by an airstrike carried out by the US-led coalition fighting ISIS. Body parts of his wife and daughters littered the street.
"We found some on the other houses here," recalled a neighbor, Yasir Mohamed, on a recent afternoon, as some semblance of life returned to their neighborhood, called Hay al-Sukar, which was freed from ISIS in January. Reached later by phone, Hassan still seemed to be in shock. "Just everything was in pieces," he said. "Everyone was dead."
"Everything happened before my eyes," he kept repeating.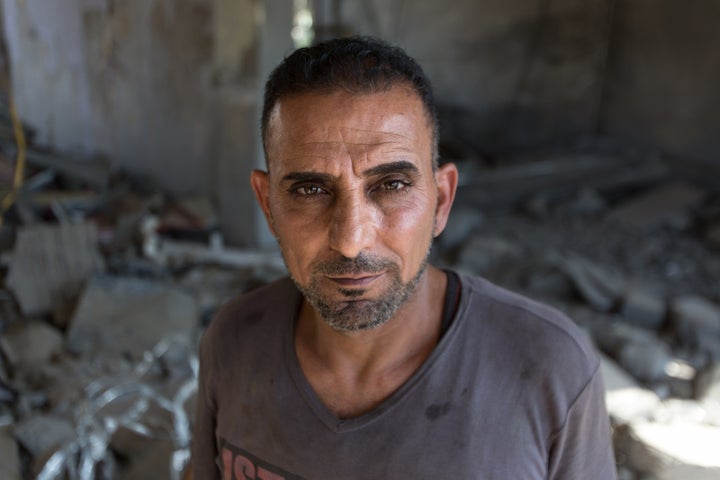 Hassan Ali Hassan
Warzer Jaff for BuzzFeed News
Homes like Hassan's riddle Mosul's streets as Iraqi forces push into the last ISIS-held districts of the city. The US-led air campaign has taken a devastating toll on civilians — and there has yet to be an accounting of its extent. In any neighborhood, residents can quickly point the way to the wrecked houses nearby, detailing which ones held ISIS militants and which ones held only civilians. In late May, a reporter and photographer from BuzzFeed News visited seven sites where witnesses alleged that civilians were killed by airstrikes from the coalition. US warplanes lead the air campaign, but allies such as Britain, Australia, Canada, and France also participate.
The battle has seen some of the deadliest urban combat since World War II — and it has been defined by airstrikes. As of June 3, the coalition had launched some 24,464 munitions into Mosul since the offensive began in October 2016, according to US Department of Defense statistics, and the intensity of the strikes has increased under the Trump administration. In the two years prior to the offensive the US-led coalition launched roughly 13,000 strikes in Iraq. But it's not just airstrikes that have been raining down on Mosul, endangering civilian lives. The US army has deployed advanced HIMARS rocket launchers, capable of firing six guided missiles from a range of more than 40 miles away. Both sides have used mortar bombs and other artillery. Iraqi jets have carried out airstrikes too.
Human rights groups have also accused the coalition of using white phosphorus on civilian areas in western Mosul in recent weeks, as well as in ISIS's Syrian capital of Raqqa, where UN investigators say there has been a "staggering loss of civilian life." White phosphorus is condemned by humanitarian groups as an indiscriminate weapon that wreaks havoc on civilians and combatants alike. The spokesman for the coalition in Washington, DC, Col. Ryan Dillon, said that white phosphorus was primarily used for marking targets and masking the movements of coalition vehicles as they attacked ISIS holdouts. "The coalition does not target enemy fighters with white phosphorous and certainly does not target civilians," he said.
"Everyone was dead."
As the chaotic fighting draws to a close, the scale of the human toll the strikes have wrought remains unknown. ISIS restricts information and communications, which ruled out independent documentation of strikes when the sites were under the militants' control. As ISIS cedes territory, the US-led coalition has been slow to investigate. It currently has only two service members assigned to sift through allegations of civilian casualties and flag them for assessment, said Maj. Mike Burns, a US Army spokesperson for the coalition based in Kuwait. He said that the coalition plans to increase the size of that team.
Chris Woods, director of the London-based monitoring group Airwars, said his researchers have identified 228 incidents with confirmed or credible allegations of civilian casualties caused by the US-led campaign in Iraq. Since the coalition's air war in the country began in August 2014, the US military has investigated just 440 cases of possible civilian casualties in Iraq and Syria combined, according to US Department of Defense statistics. (When asked for the statistics for Iraq alone, a spokesman for the Department of Defense declined to separate the tallies for the two countries.) So far this year, the US military has determined it has killed 116 civilians in 10 incidents in Mosul; of the 38 cases still open, 21 of them are in Mosul.
There are likely many more incidents, Woods said, that monitors have missed. "I guess this is what happens in these major cities during these big assaults. We haven't seen [a battle like this] in a long time," he said. "There are going to be so many cases out there that nobody has heard about yet."
The strike that killed Hassan's family was one that stayed off the radar. So did a Dec. 12 strike in the Hay al-Falah neighborhood of eastern Mosul, which witnesses say killed 10 civilians. The large lot where a destroyed home once stood is now flattened and empty; a bulldozer cleared away the rubble once ISIS had been pushed out. The concrete wall of an adjacent home is still covered in soot, and children have pressed handprints onto it and drawn hearts with their fingers. Across the street, three large houses that residents say ISIS used as a headquarters and arms depot remain untouched.
The strike, which came weeks before Iraqi forces pushed into the neighborhood, appears to have been the result of intelligence that was off by just a few feet. It killed eight members of an extended family that had been living in the home: a woman named Khawla Mahmoud; Mahmoud's son Udai Ahmed and his wife, Shahad Khalil, who was seven-months pregnant; Mahmoud's son Umar Ahmed and his two young daughters; and two of Mahmoud's grandsons. Four more women from the family were wounded, and two neighbors were also killed. "When the airstrike hit, the whole neighborhood came out," said Omar Jelal, 32, who lives nearby. "Whoever was able pulled out the bodies."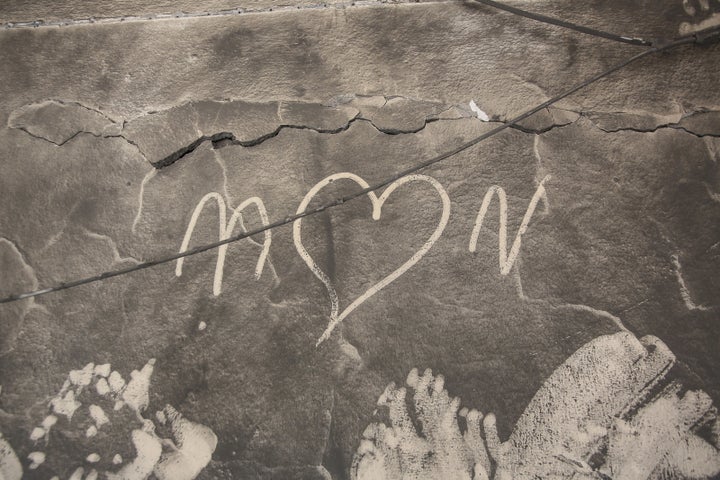 Warzer Jaff for BuzzFeed News
An old man leaned against the outer wall of the house next door, favoring his right leg. Khayradeen Abdur Razzaq, a retired laborer, said he was in his garden when the strike hit, covering him with rubble, and breaking his leg in three places. His neighbors were buried in his small front yard, he said. Their bodies remained there for weeks until family members came and moved them to a cemetery. "If they're not sure about the target, it's not right for them to strike," he said of the coalition.
Reached by phone, Mahmoud's cousin Nawal Fathi Khala — who lived next door and brought the four women who were wounded in the strike to the hospital — said the family was struggling to get them medical care. "Nobody knocked on our door. Nobody asked us about what happened. Nobody investigated. We haven't seen a single person," she said. "We are peaceful people. We never hurt anyone. Why should this happen to us?"
"There are going to be so many cases out there that nobody has heard about yet."
Mosul residents described the constant fear that came with living next to ISIS fighters. They knew the militants were always at risk of being targeted by airstrikes, but there was nowhere else for them to go. ISIS forbade people from leaving its territory, and even as it has ceded ground in Mosul, it has forced civilians to fall back with them. Ali Salem, 41, said one way that ISIS enforced its hated regime of fines — which were levied on everything from owning a hookah to using a cell phone — was to take a relative as collateral. "If you couldn't pay, they might take your son and hold him at one of their bases," he said. "And all the time their bases were getting hit by airstrikes. You would do anything to pay and get your son back."
A short drive from Khawla Mahmoud's former home, the house of Mohamed Ghassan Salem sat in rubble, more than two years after it was destroyed by an airstrike. ISIS militants had taken over the adjacent house, and on the night of April 22, 2015, both were hit by rockets. At the time, he had been working at an electronics shop he owned down the street, and ran over to find his family dead: his mother, brother, pregnant wife, and 5-year-old son. "My mother was lying down here by this tree," he said, walking through the debris, which is strewn with twisted metal and his family's personal effects. "My brother was just over here next to the door. My wife and son were in the basement, dead. There was fire — fire everywhere."
Salem said he had contacted both the coalition and the Iraqi government, but that little had come of it. "I understand that ISIS is putting bases in civilian houses. But it's the coalition that made the mistake and killed my family," he said. "It doesn't matter what we get — moral or financial compensation. It's not going to be equal to one finger from my son. But at least someone needs to take responsibility."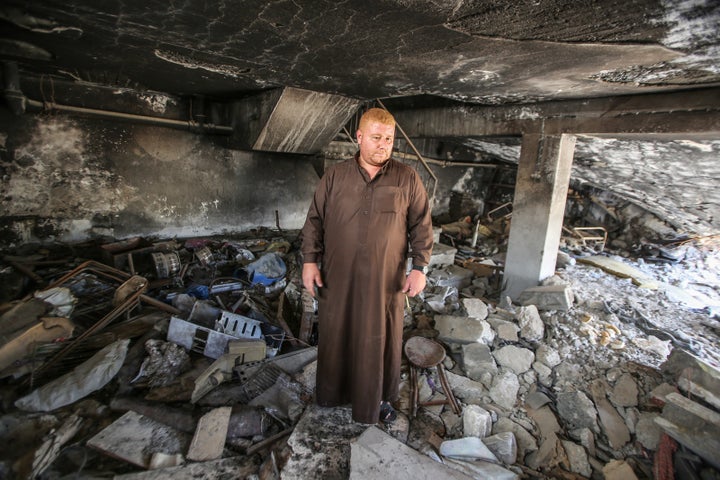 Mohamed Ghassan Salem
Warzer Jaff for BuzzFeed News
Western Mosul has seen some of the offensive's worst fighting, its densely packed neighborhoods full of ISIS fighters. On streets ravaged by airstrikes and artillery, house after house has been destroyed. On a recent afternoon, residents were still picking through the rubble of the site of the most infamous US strike, in the neighborhood of al-Jadida. On the morning of March 17, as Iraqi forces pushed into the area, a US strike aimed at ISIS snipers destroyed a large house where civilians had been sheltering, killing more than 100 people and sparking international outrage. In a report released in late May, the Pentagon said that it had killed at least 105 civilians in the strike. But it also blamed the death toll on bombs that it claimed ISIS had placed inside the home, saying that a secondary explosion had caused the building to collapse.
The building now looks like any of the hundreds around Mosul that have been destroyed by airstrikes. Witnesses rejected the idea that ISIS had put bombs there, saying the home's owner had opened his doors to other residents because it was considered a safe place to stay. "There were no explosives. There was nothing going on. There were just civilians here," said Ahmed Abdul Karim, who lives beside the destroyed building and lost six members of his family in the strike.
Karim and other witnesses said there had been 137 people living in the building, and that 111 were confirmed dead. Another eight were wounded, and the bodies of the rest were still missing. They believed some were still buried in the rubble.
"Everyone was a civilian. It was families and kids."
Down the street is the site of another strike that has not been investigated. Late in the afternoon on March 14, rockets crushed a house that stood there, killing 27 people, mostly women and children, witnesses said. A pink backpack laid amid the rubble, alongside some children's shoes and a broken bedpost. "They were all here, crushed over each other," said Yusuf Yahya Abed, who said he was related to all of the dead.
Abed and other residents couldn't say what the strike might have targeted. "Listen, ISIS jumps from roof to roof," said Noar Nazar, who had part of his home destroyed in the same attack.
In the western Mosul neighborhood of Hay al-Mamun, witnesses to a Feb. 1 strike were likewise left guessing. They remembered women sitting on the rooftops and children playing out on the street just before two adjoining houses were suddenly obliterated, killing 15 people. "Everyone was a civilian. It was families and kids," said Shalan Suadi, who lost his brother and sister-in-law. "We have no idea what happened."
The chaotic nature of the battle, with civilians trapped between the US-led forces fighting to free them and ISIS militants, means the threat can come from any direction. Zayd Younes Mohamed, a 45-year-old mechanic, recalled the day ISIS placed an anti-aircraft gun near his brother's house, which sits across the street from his own. It was March 3, days before Iraqi forces reached his neighborhood of Hay al-Mansur. The coalition fired on the anti-aircraft gun but destroyed his brother's home in the process. Five people, including three children, were killed, while his brother and five more people were wounded.
As Mohamed rushed to retrieve the bodies, he heard a plane overhead. Terrified, he ran back to his home next door to place white flags on the roof. An ISIS fighter threatened to shoot him. "Put the white flags down. Have you been liberated?" the fighter said. "If we die, you die with us."
Mohamed and his brother buried the children in a graveyard nearby. When they approached the Iraqi government for compensation, he said, he was told that, since the bodies were no longer at the site of the airstrike, there was no proof that they were victims of the attack. "We lost everything," he said.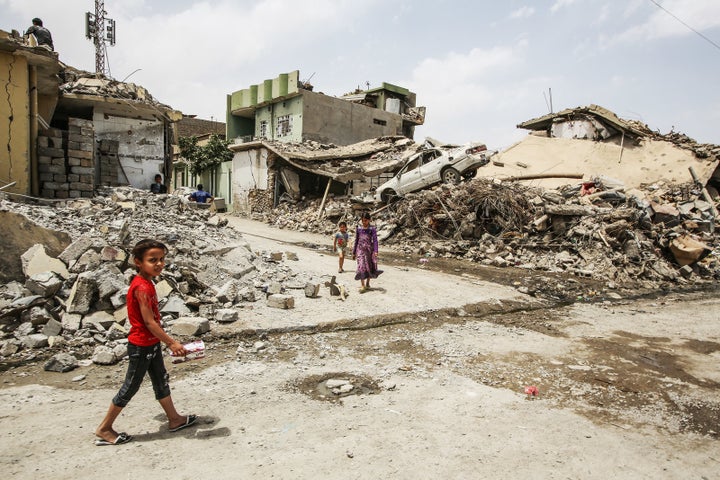 The western Mosul neighborhood al-Jadida.
Warzer Jaff for BuzzFeed News
After receiving details of the seven strikes, a spokesperson for the coalition based in Baghdad said in an emailed statement that only the March 17 strike in al-Jadida had been investigated. The spokesperson said that the additional six cases would now be reviewed. "The Coalition takes all allegations of civilian casualties seriously though and will assess these allegations, as we do all allegations of possible civilian casualties," the statement said. "The Coalition respects human life and is assisting partner forces in their effort to liberate their land from ISIS while safeguarding civilians. Coalition forces comply with the law of armed conflict and take all reasonable precautions during the planning and execution of airstrikes to reduce the risk of harm to civilians. Our goal is always for zero civilian casualties."
ISIS's strategy for defending the city has seen militants take cover among civilians, often using them as human shields. They have reportedly executed people caught trying to flee, and when ISIS loses control of neighborhoods, it sometimes then pummels them with mortars. The Iraqi government advised the estimated 1 million civilians who were in Mosul at the battle's start to remain there, and wait to be rescued — but this has left them trapped. As Iraqi forces push through neighborhoods in their Humvees, white flags can often be seen on top of civilian homes, while some people simply hide in their basements. ISIS meanwhile fires on the Iraqi troops from concealed positions in Mosul's buildings and homes, which are then targeted with airstrikes in response.
"Accidents have happened. Mistakes have been made."
Gen. Rick Uribe, a senior US military official in Baghdad, is the coalition's targeting engagement authority for parts of the battlefield in Mosul, overseeing the approval of airstrikes. He works in an operations room in the capital alongside officers from each of the Iraqi forces taking part in the offensive. In a telephone interview, Uribe provided a general outline of the approval process: assessing first the available intelligence on the target and then the patterns of civilian life around it; selection of a "proportionate" weapon; checking the rules of engagement; and finally giving permission if all the boxes are checked. After his sign-off, Iraqi officers give a final authorization. Then the coalition launches the strike. "I can tell you that there are a lot of no's," Uribe said. "Sometimes the Iraqis say no. Sometimes we say no. And when we say yes, it's because everybody is agreed."
"Our modus operandi is first do no harm," he said. "Accidents have happened. Mistakes have been made. But the process is solid."
Uribe said that the coalition's military planners expected to face the heaviest ISIS resistance in western Mosul and for that reason focused first on freeing the eastern half of the city, gradually pressing in on ISIS strongholds in the west. "The Iraqis understood the whole time that the west would be the fiercest fighting that [they] would face. And so here we are," he said. "That's exactly what has come to pass."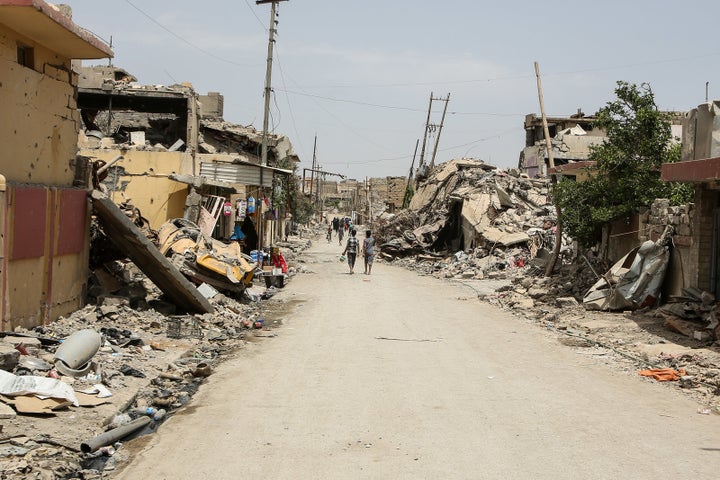 Al-Jadida
Warzer Jaff for BuzzFeed News