Police officers attend to the scene after a vehicle collided with pedestrians in Finsbury Park, north London.
Stringer / Reuters
Witnesses to the Finsbury Park terror attack have told BuzzFeed News how they and others caught the driver of the white van that ploughed into Muslim worshippers in the early hours of Monday.
A 26-year-old Muslim local, who asked not to be identified, said he had been among the first on the scene. He had been sitting in his friend's cafe in Seven Sisters Road when an elderly Bangladeshi man fell "right at my feet". He and others tried to help the man when the white van drove into people.
When the van came to a stop, the witness said he heard the driver saying: "This is for London Bridge. I want to kill Muslims. I've done my job."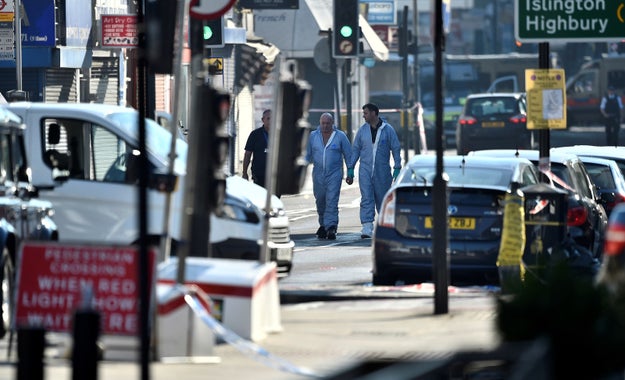 Police forensic officers walk down a road close to where a vehicle collided with pedestrians in the Finsbury Park.
Hannah Mckay / Reuters
Another witness, a 25-year-old who was on crutches after sustaining injuries in the attack, gave a similar account to BuzzFeed News, saying he had heard the man say: "It's for London Bridge, I done my duty, what I came here for. Kill me, kill me, kill me. I did my duty."
Other witnesses who were involved in detaining the driver say he shouted about killing Muslims, but they made no mention of any comments about London Bridge.
According to the witnesses, the man then tried to escape. "He tried to run out, he tried to run out then me and my friends grabbed him," said the 26-year-old. Other passersby then joined in to apprehend the driver, he said. "Everyone wanted a piece of him but the imam wouldn't let them."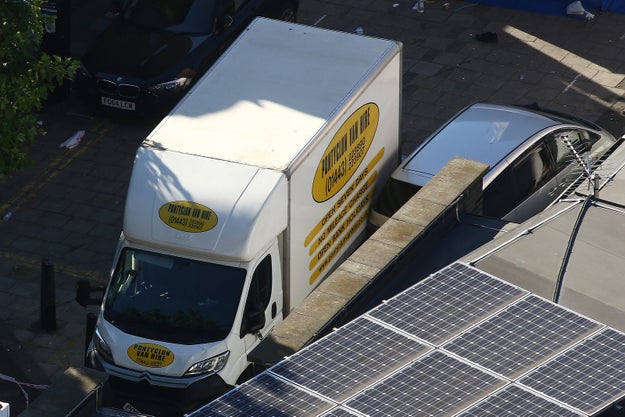 A white van is seen at the scene after a vehicle collided with pedestrians in Finsbury Park.
Neil Hall / Reuters
Another witness, Zee, aged 33, told BuzzFeed News: "Everyone was kicking him and asking him, why did you do it. He said 'I did it for London Bridge'. He was laughing."
Zee said he knew the elderly man who died at the scene because he was his next door neighbour. Referring to him as an "uncle", a term or respect for an elderly man from the community, he said: "The uncle, he was a good man, he was the best man, he was an Asian uncle. I know all his sons and daughters. He's always outside with his grandchildren. Everyday he says hello to me. It's the last ten days of Ramadan, he's going to heaven."
Zoheir Cheraf, a local resident, aged 42, said he knew a 23-year-old man who had been injured in the attack. "I know his father, his brother and I've spoken to his sister at 7am. He's in Whitechapel hospital, he's got his ribs broken… and bleeding from inside. They need to do an operation."
Zoheir Cheraf
Aisha Gani for BuzzFeed News
He added: "We prepare for Ramadan, we prepare for Eid, we have a party together, and mosque does a party for the community, but this year will be different. …This year will be different with sadness and caution."
Ibn Omar, who had been worshipping at the nearby Finsbury Park mosque, told BuzzFeed News of his shock at what he had witnessed.
"I came here today to break my fast, and prayed Maghrib, sunset prayer, then after I went to eat. When I went to the shop and came back I just see people on the floor screaming, crying, I see the assailant getting held down, after police came, detained him.
"I thought wow people in same community were recently grieving, I know people personally who went to help out at Grenfell Tower but also affected by it.
"What's happened here is a tragedy and it's devastating, what's happened now they're Muslim. It's heartbreaking. What's even more sad and annoying and aggravating is the fact the government and police initially didn't put this down as a terrorist offence. Put it down to a collision. I was watching news after I went home and watching news the whole time. People were calling me you in Finsbury Park they know I'm in the area."
Omar El-Hamdoon, of the Muslim Association of Britain, praised the worshippers who had caught the driver and then stopped the angry crowd attacking him. "They managed to apprehend the person who tried to flee and then there are reports he was saying I want to kill Muslims. So they managed to get hold of him and didn't want anyone hurting this person as well as people were quite frustrated.
El-Hamdoon told BuzzFeed News: "Obviously people are in shock as we are seeing an increase in attacks of this Islamophobic nature and people are very upset by the incident and also by how it will be treated by the authorities, whether it's the police or the Home Office and so on and people are calling for this to be labelled a terror attack and initally while that didn't happen straight away we are hearing police call it a terror attack and this is reassuring.
"This kind of incident that is not done by a Muslim and called a terrorist attack is reassuring for the Muslim community that they are not being deal with double standards."
He said he was advising local community not to stop their everyday activities as "terror attacks like this are aimed at scaring people and spreading fear, and we shouldn't let people do this."
He said his organisation was calling for the police to heighten security for Muslims in mosques and to provide better security and were also calling on the government to tackle "this hateful ideology" which has spread in the past years and was resulting in more Islamophobic attacks.
Toufik Kacimi, the chief executive at Muslim Welfare House, also appealed for calm. "I would like to thank our Imam Mohammed Mahmoud, whose bravery and courage helped calm the immediate situation after the incident and prevented further injuries and potential loss of life."